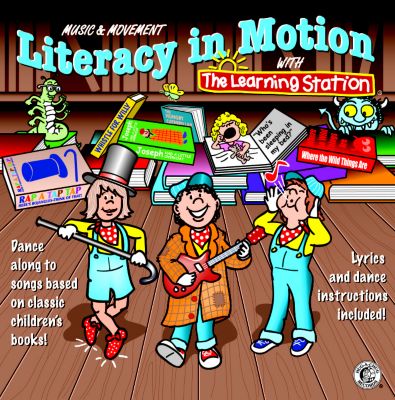 About the CD

This collection of 20 interactive songs, dances and activities are designed to motivate children to read, and foster a lifelong love for reading. We've chosen some of the most popular children's books (primarily Caldecott Medalists) and designed movement songs that correlate to each story.

Children will be invited to dance and get wild to Maurice Sendak's, "Where the Wild Things Are", make something out of nothing with Simms Taback's, "I Had a Little Overcoat", learn how to whistle ("Whistle for Willie"), tap dance with Bojangles, count to ten in Swahili and much, much more!

There is even a heaping plate of "Green Eggs and Ham", the adventures of a "Very Hungry Caterpillar", along with classics like "Goldilocks and the 3 Bears" and moving tale "The Giving Tree". Let's not forget a healthy dose of good, silly fun when your Eyebrows Touch the Moon based on the antics in the book "Rain Makes Applesauce". And, add to that a Jamaican groove "Head to Toe Dance" that will have everyone moving to your favorite book by Eric Carle. Combine reading aloud with songs that enhance the total experience and watch your children blossom with a joy of reading!

Includes lyrics, movements and activities in a 24 page booklet insert.

My Take on the CD

This CD has so many great songs on it that any young child will enjoy. On top of this the ideas and activities presented in the booklet is invaluable and you will find that it offers you a great array of ways to engage your children through song and dance. I tried this with my youngest child and she loved it. Her favorite thus far was the adventures of a "Very Hungry Caterpillar" (as she was this caterpillar for Halloween as well). If you are looking for fun ways to engage your kids (either at home or in the classroom) this is definitely a CD that you will want to pick up today!

All opinions expressed in this review are my own and not influenced in any way by the company.

Any product claim, statistic, quote or other representation about a product or service should be verified with the manufacturer or provider.

Please refer to this site's Disclaimer for more information.

I have been compensated or given a product free of charge, but that does not impact my views or opinions.

----------------------------------------
New to the
Divadom
or to
Dad of Divas Reviews
?
Please Subscribe to my RSS Feed!
Subscribe in a reader
Questions? Drop me a line at
dadofdivas@gmail.com