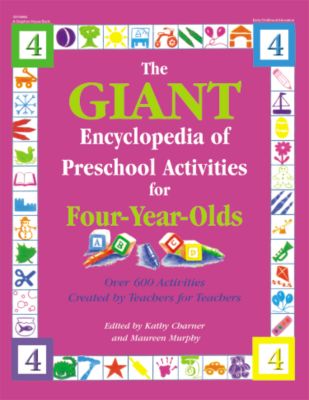 About the Book

Written just for four-year-olds, this collection of over 600 teacher-created, classroom-tested activities has everything from songs and books to activities in art, circle time, transitions, science, math, language, music and movement, and more! Helpful classroom management techniques are included. This complete resource of the best selections from a national contest is sure to become a classroom favorite. Formerly titled,It's Great to Be Four

My Take on the Book

As I said in the review if the

Giant Encyclopedia if Preschool Activities for Three-Year Olds

these books are great resources to share with your kids and provide you as parents with great tools to make your job at educating and entertaining your pre-schooler even easier.

The book has a ton of ideas within it, and could be used with four or five year olds in my persective. You do need to realize that the book is geared toward teachers. Though I am not a teacher of four year olds, I do see that many of the activities could easily be used with parents as well, though you may have to stock up on supplies to make the activities a possibility.

Overall, this is a great book and one that I would recommend to all!

All opinions expressed in this review are my own and not influenced in any way by the company.

Any product claim, statistic, quote or other representation about a product or service should be verified with the manufacturer or provider.

Please refer to this site's Disclaimer for more information.

I have been compensated or given a product free of charge, but that does not impact my views or opinions.

-------------------------------------------------------------------------------------------
New to the
Divadom
or to
Dad of Divas Reviews
?
Please Subscribe to my RSS Feed!
Subscribe in a reader
Questions?Drop me a line at
dadofdivas@gmail.com