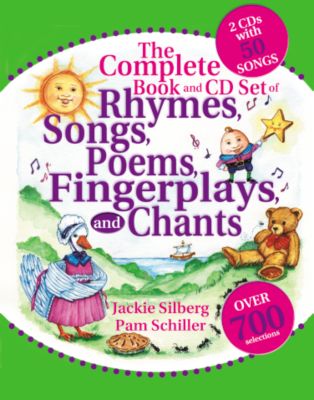 About the Book Over 700 rhymes, songs, poems, fingerplays, and chants

The Complete Book and CD Set of Rhymes, Songs, Poems, Fingerplays, and Chants gives children a variety of ways to fall in love with rhythm, rhyme, repetition, and structural sequence-important building blocks for future readers. The 700 selections will help children ages 3 to 6 build a strong foundation in listening skills, imagination, coordination, and spatial and body awareness. The accompanying CDs feature 50 songs guaranteed to get everyone up and moving!

The book includes three easy indexes for quick reference:

First Line Index

A horse and a flea and three blind mice…

All around the cobbler's bench…

I caught myself a baby bumblebee…

I went to the Animal Fair…

Theme Connection Index

Alphabet

Emotions

Families

Opposites

…and More!

Category Index

Action rhymes

Fingerplays

Nursery rhymes

Sequencing songs

Tongue twisters

…and More!

The CDs include 50 songs from the book, such as:

The Ants Go Marching · The Bear Went Over the Mountain · I've Been Working on the Railroad · Itsy Bitsy Spider · John Jacob Jingleheimer Schmidt · Make New Friends · Miss Mary Mack · The More We Get Together · Skidamarink

CDs Produced by Jackie Silberg

About the Authors Jackie Silberg

, who has an M.S. in child development, is an early childhood advocate and popular keynote speaker. She received the Distinguished Alumna Award from Emporia State University, recognizing her current achievements as well as her long and prolific career. Jackie founded and directed the Jewish Community Center School of Music in Kansas City, Missouri, and worked for Channel 41 television, planning the music and performing her original music for a children's program called "41 Treehouse Lane." She wrote and produced a television show for Time Warner called "Just Kids," which addressed children's needs and interests. Jackie has worked as a consultant with the Discovery Channel, setting up their music streaming website. She has given workshops, keynote addresses, seminars, and family concerts throughout the U.S., Canada, Australia, Germany, and in Singapore. Jackie has served as an adjunct instructor at both Emporia State University and the University of Missouri at Kansas City and lectures at Johnson County Community College. Jackie is the owner of Miss Jackie Music Company.

Jackie Silberg lives in Leawood, Kansas.

Pam Schiller, Ph.D.

, is a freelance early childhood author and consultant. She is Past-President of the Southern Early Childhood Association and Texas Association for the Education of Young Children. She served as Head of the Early Childhood Department at the University of Houston, where she also directed the Lab School. Pam is a highly sought after speaker and has given numerous presentations for organizations such as the National Association for the Education of Young Children, the Southern Early Childhood Association, Association for Childhood Education International, and the International Reading Association. She has written numerous articles for early childhood journals, including Child Care Information Exchange and Texas Child Care Quarterly. Pam is the author of five early childhood curriculums, eleven children's books and more than thirty teacher and parent resource books.

Pam Schiller lives in Cypress, Texas.


My Take on the Book

As a father as well as a husband of a teacher, this book was an amazing collection of ideas that will help you to take your interactive activity with your children to the next level. The authors have compiled a huge array of activities that will keep you having fun for a long time. With over 700 activities that you can use with your children you can be satisfied to know that you and they will be singing, rhyming and so much more for the foreseeable future. The book is also well laid out which makes it easy to plan a lesson or an activity based on whatever specific theme that you are working with on a specific day or during a specific week. You will find that this book is an invaluable resource whether you are a teacher or a parent!

All opinions expressed in this review are my own and not influenced in any way by the company.

Any product claim, statistic, quote or other representation about a product or service should be verified with the manufacturer or provider.

Please refer to this site's Disclaimer for more information.

I have been compensated or given a product free of charge, but that does not impact my views or opinions.

----------------------------------------
New to the
Divadom
or to
Dad of Divas Reviews
?
Please Subscribe to my RSS Feed!
Subscribe in a reader
Questions? Drop me a line at
dadofdivas@gmail.com