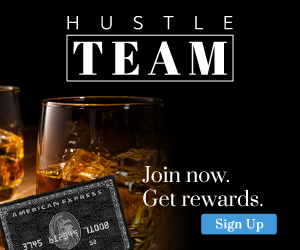 Oliver Hustle is your no nonsense adviser. He is the man that can build an engine, reference great literature, and beat you in a mile race. He always seems to be one step ahead of the trends and comfortable in his own skin. Women have never been a problem for him and he can help you land one. He is as comfortable in jeans and a t-shirt as he is in a suit. He is always ready for adventure. He can summit Mount Everest, surf Mavericks, and trek through Borneo all in the same weekend. He has wrestled crocodiles, ridden broncos, and puppies love him. He knows the difference between Full Grain, Top Grain, Corrected Grain, and Bonded leather. He could probably tell you the thread count on sheets by touch. He never accepts mediocre or mundane.
Join the Hustle Team for essential news, articles, tips and a chance to win AMEX gift cards valued up to $500.00! Signing-up is simple - just connect your Twitter or Facebook account to get started. SIGN UP!
How to Win
Recruit your friends! The top recruiter will be awarded a $500 AMEX Gift Card at the end of the month.
Earn points! The top point earner will be awarded a $250 AMEX Gift Card at the end of the month.
Sign up! Just for signing up you'll be entered into a random drawing to earn a $100 AMEX Gift Card at the end of the month.
Ways to Earn
Sign up for 100 points
For every friend you get to join, you'll earn 150 points
Score 100 points for following Oliver Hustle on Twitter
Each social network you connect get you an additional 100 points

----------------------------------------
New to the
Divadom
or to
Dad of Divas Reviews
?
Please Subscribe to my RSS Feed!
Subscribe in a reader
Questions? Drop me a line at
dadofdivas@gmail.com