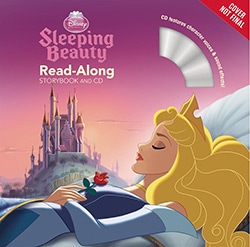 About the Book
Relive the classic animated tale of Walt Disney's Sleeping Beauty! Follow along as Aurora grows up with the good fairies, meets the prince of her dreams, and overcomes Maleficent's evil curse. Real character voices and lively sound effects add to the magic in this enchanting storybook-and-CD set.
My Take on the Book
I remember years ago books often had cassettes so the child could read along and listen to the words on a tape recorder. Well, in our digital age, the recording of words and sound effects are now on a CD for the child to enjoy. Disney has done an excellent job publishing a well loved story with beautiful illustrations and text that follows not only the illustrations but the story line of this popular movie. The CD is an excellent accompaniment and your child will enjoy listening to it even it they can read some or all of the text.

----------------------------------------
New to the
Divadom
or to
Dad of Divas Reviews
?
Please Subscribe to my RSS Feed!
Subscribe in a reader
Questions? Drop me a line at
dadofdivas@gmail.com