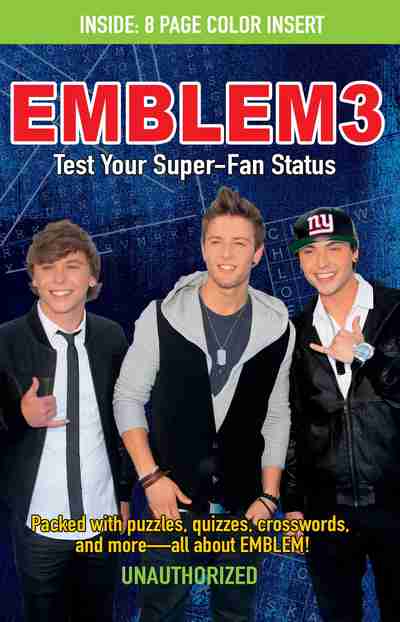 About the Book
From a small-town in Washington State to a laid back California crash pad to screaming fans and Hollywood stages, the journey of brothers Keaton and Wesley Stromberg, and their best friend Drew Chadwick, has been filled with twists and turns. The multi-talented trio--aka Emblem3-- has taken the music world by storm since they wowed Simon Cowell on The X-Factor USA in 2012.
Whether the guys are playing to roaring crowds, chilling offstage, promoting their current album and tour, or engaging with hundreds of thousands of friends and followers online, their fans want to know! Emblem3: Test Your Super-Fan Status is packed with fun, hands-on activities that sum up everything there is to know about the band. Fans (ages 8 and up) can learn new facts, challenge their friends, and test their own Emblem3 IQs to find out exactly who is the ultimate super fan! Readers will discover:
A fun-filled interactive book on all things Emblem3
Puzzles, trivia, quizzes, activities, and games that put their status to the test
Extra features like song title scrambles, fill-in stories, word searches, picture puzzles, and more
8 pages of gorgeous full-color Emblem3 photos!
My Take on the Book
This book is not your typical puzzle book. It was written specifically for fans of the vocal group EMBLEM 3.
All the answers to the puzzles are in the back of the book. As you work through each page at least you'd be able to learn the answer if you chose an incorrect one on the puzzle page.
The book includes color photographs of the three vocalists.
If you have an older child who enjoys listening to the EMBLEM 3 music group, this may be a book they may enjoy using. There is some challenging reading and problem solving.

----------------------------------------
New to the
Divadom
or to
Dad of Divas Reviews
?
Please Subscribe to my RSS Feed!
Subscribe in a reader
Questions? Drop me a line at
dadofdivas@gmail.com