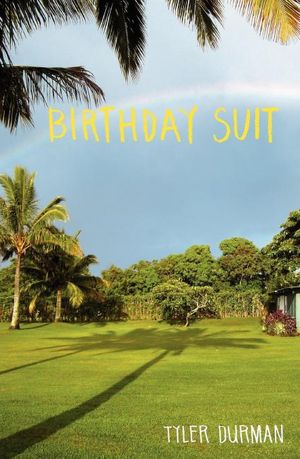 About the Book

Author Tyler Durman offers a memorable collection of humorous and life-affirming personal short stories in this great new book. The collection is called Birthday Suit, and in it, Tyler takes readers on the adventure that is his life.

Stories shape our lives. Tyler seamlessly interlaces some of his most profound experiences — from nearly being eaten alive by a hippo in Africa, to making a group of nuns blush — and brings a fresh, raw voice to the ever-growing movement of storytelling.

About the Author

Tyler Durman lives in Laguna Beach, California, and is best known for his ability to offer wisdom through laughter and storytelling. As an author and speaker, his live presentations reach more than 250,000 people each year, on a large number of topics. His style is so diverse that he is equally sought after to present before audiences of teenagers and audiences of adults.

He has spoken at over 7800 schools, conferences and events, and to more than five million teenagers. This has given him the unique opportunity to be invited behind the scenes and into the lives of young people, in hundreds of one-on-one conversations. As a result he understands their world to a depth that most adults rarely see.

He is a father, was born in Africa, and has lived much of his life in Hawaii. He is a terrible dancer who loves to surf, and is so entertaining that he has been featured at Universal Studios in Hollywood and on network television. He is booked annually as the keynote speaker for leadership conferences, community, parenting and corporate events, and for middle and high school assemblies.

He is the author of Birthday Suit, a collection of short stories that will be available wherever books are sold in the spring of 2012.

He has a Masters Degree with an emphasis in Counseling, loves life, and will help you look honestly into your own heart, while keeping a smile on your face.

My Take on the Book

This was a great collection of stories that had me laughing and smiling from beginning to end! On top of the humor in the book the author also does an amazing job at painting a vivid picture of his life and the world and society that accompanies this. He also is a talented story-teller and provides the reader an entertaining and engaging story that you will love.

All opinions expressed in this review are my own and not influenced in any way by the company.

Any product claim, statistic, quote or other representation about a product or service should be verified with the manufacturer or provider.

Please refer to this site's Disclaimer for more information.

I have been compensated or given a product free of charge, but that does not impact my views or opinions.

-------------------------------------------------------------------------
New to the
Divadom
or to
Dad of Divas Reviews
?
Please Subscribe to my RSS Feed!
Subscribe in a reader
Questions?Drop me a line at
dadofdivas@gmail.com