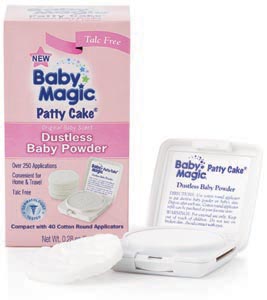 Baby Magic® Introduces Patty Cake®,
World's First Patented Dustless Baby Powder Compact
When it comes to changing diapers, there hasn't been much advancement in the past century. Sure, we've gone from cloth to disposable diapers, an innovation that had moms the world over crying for joy, but beyond that, many parents have followed the same diaper-changing protocol for generations: remove soiled diaper, clean, apply lotion and sprinkle your little one – and everything around them – with baby powder. If only the process could be made easier and less messy. Coming this spring, Baby Magic® – a mom- and physician-approved brand for more than 100 years – will revolutionize the industry with the launch of Patty Cake®, the world's first U.S. patented*, talc-free, dustless baby powder compact that will help give parents the magic touch at the changing table.



Baby Magic® Patty Cake®

, the first pressed baby powder packaged in a conveniently-sized compact, implements a hypo-allergenic, talc-free formula that uses rice starch and Lauroyl L-lysine to help keep skin dry. Together with zinc oxide, a proven ingredient in diaper rash prevention; moisturizing jojoba esters, derived from natural jojoba oil; and lubricating squalene, derived from olives; Patty Cake® eases chafing and dryness on your baby's most sensitive areas.



DIRECTIONS

: Using the disposable cotton round applicators included in every package (extra rounds can be stored in compact), swipe applicator across Patty Cake®. Apply baby powder on baby's bottom and other areas that can use powder and are susceptible to irritating friction. Not only is the precise application easy-to-use, the dustless formula eliminates the possibility of airborne particles from entering your baby's lungs, something that is hard to avoid with all other baby powders.



Suggested Retail Price

: $8.99 (Over 250 Applications)

Water Repellent (helps prevent diaper rash)

Lubricant (helps prevent diaper rash)

Controlled Application

Carry with Convenience

Fresh Scent

Moisturizing
About Baby Magic


Baby Magic is the dermatologist and pediatrician-endorsed brand known for gently cleansing and protecting babies for over 100 years. Providing a wealth of information and support on everything parents need to keep their baby's skin soft, clean and healthy, Baby Magic offers a wide range of products for all your baby care needs. For more information, please visit http://www.babymagic.com/.